Charles Harris Art Consultant
> Charles Harris is an award winning artist, renowned Internationally, as well as locally in the Perthshire area in Scotland.
Practically Charles has the experience to provide a piece of Art which is special and unique for you, or to assist you with any other artistic requirement or requests.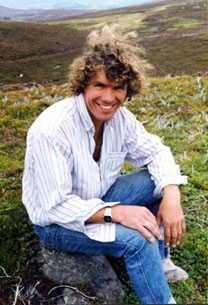 Charles pictured in the Perthshire hills
> His expansive history of prize winning pictures, exhibitions and celebrity commissions, make him the ideal choice for any special Art project, or as a consultant to provide outstanding professional advice.
> Throughout his career Charles has completed a wealth of work, including many portraits or local landscapes of the beautiful scenery throughout Perthshire, Scotland.
> During this successful career he received many commission requests and completed portraits for many famous businessmen and celebrities. (see Biography section)
They have included, for example –
Mother Theresa, the Queen of Swaziland, Lord Steel, Viscount and Viscountess Stormont, Lord Carloway and members of the cast of the Hollywood movie 'Rob Roy'.
> The artist's work has also been requested by both Her Majesty Queen Elizabeth II and HRH the Prince of Wales for the Royal Collections and at No.10 Downing Street for the British Prime Minister the Rt. Hon. Tony Blair MP. (see Biography section)
> Professionally Charles Harris' artwork has been exhibited many times around the world as well as here in Britain. He has conveniently assisted Scottish Business with local one man exhibitions including an exhibition at Gleneagles Hotel for the Institute of Directors. (see Exhibitions section)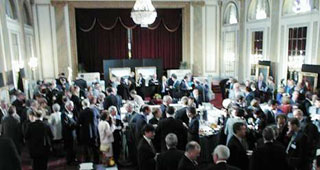 Exhibition at Gleneagles Hotel Scotland
> In 2001 the artist was requested to provide a private Art exhibition in Perth for the inaugural launch of Iain Duncan Smith's campaign for leadership of the Conservative Party.
> Charles Harris has regularly gathered worldwide acclaim for his work in every area. In 2000 his painting entitled "The Road from Murrayshall" was named "Best picture in the biggest Art show in the world" by Rob Ingram, organiser of 'Art Expo' in New York.
> With years of international acclaim for beautiful portraits or landscapes relating to the locale, Charles Harris is a world class respected artist on your doorstep in Scotland or an e-mail away, anywhere world-wide, as people in Italy, England and the USA will confirm.
> Today, he is an acknowledged authority on Italian Renaissance Art, the history of Art (see new book) and the investment value of Art, where he already has a proven investment track record. (see Biography section)
As an example of this expertise, he discovered an unknown Renaissance painting in a Roman Catholic Monastery. (see below)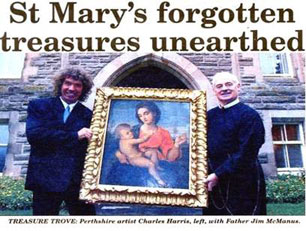 > As an Art expert, his specialised knowledge is extensive and he can provide Talks, Seminars, Teaching, Art Judging, as an Author, or with written Expert Articles, Reviews, Masterclasses, Restorations, Valuations and also with Insurance. Here he has been recently been taken onto the books as an advisor to a leading British Insurance Company.
> Within this wealth of knowledge, throughout his career he has also been pioneering new connections between Art and Sport, capturing the heroic aspects of leading sporting personalities and historic sporting occasions.
He worked with British International Speedskater Paul Fitzgerald to assist his Olympics fundraising programme both at Streatham Ice-rink in England and at the World Cup in Oslo Norway. This was featured on the BBC Television Six O'clock News programme in England. (see major painting 6 feet by 4 feet below)

British International Speedskater Paul Fitzgerald at the World Cup Event in Oslo Norway
> He regularly combines Art with Sport using his traditional painting techniques and live demonstrations, as well as also providing original marketing ideas, combining Art and Sport, as potential income for interested parties accordingly.
In this respect he was recently featured with Scottish Rugby Union, in a live interview on BBC Television, filmed at Murrayfield Stadium in Edinburgh, during a live International Scottish Rugby game, in the Six Nations Championship. (see Art and Sport section)
> In all aspects of Art, his reputation as a leading traditional authority, both practically and theoretically, has also made him a perfect mirror to view the confusion of today's Modern Art world.
He can apply his extensive and expert Art knowledge in assessing any artistic achievement, assess any academic ability, quantify the time involved with regard to any aspect of Art whatsoever, both historical or in the work of contemporary living artists or craftspersons.
He provides the perfect, honest valuation of any artwork for today and for the future, while his expert opinions are provided to his clients in a professional, timely and economic fashion.
> For all enquiries, may we therefore ask if you could kindly contact our team and provide your e-mail contact details or, should you prefer the telephone, your number plus a suitable time where our PA can communicate with you, to discuss your requirements, or with a view to arranging a meeting.