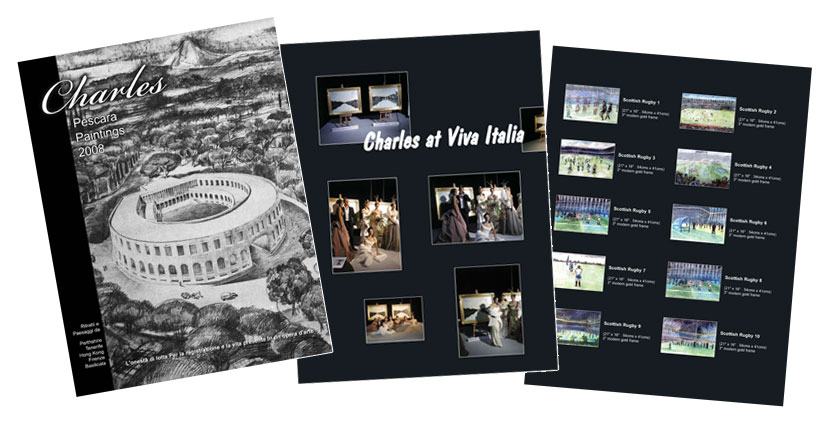 "As we close with the record of this huge exhibition, it is important to appreciate several key details, historically, few artists ever stage one-man- shows on this scale, and with the master classes and seminars that proceeded it, these events provide for all, a window into the wonderful world of Classical Art and it's latest disciple."
Regarding the portrait script, here is the closest I have ever come to describing what I seek :
'I desire to draw a human form that is so convincing three dimensionally, that it touches the magic of life itself and then I want to clothe that plain form in brush strokes of glorious light, or rich encompassing dark.'
Charles Harris staged his largest Exhibition, a one hundred traditional classical paintings show in Pescara, Abruzzo in Italy, at the Ex. Arum a new Centre for Excellence.
Pescara itself is a big city located on the beautiful Adriatic Coast. There are fantastic beaches and it is only 30 kilometres from romantic and spectacular mountains. It is also only a two hour drive from Rome, but the area is yet an unspoilt.
The Exhibition was the final highlight of a Cultural Programme including practical Master classes and Seminars that Charles held earlier in Schools and Colleges in Italy in the this Spring. There were also public demonstrations of portrait painting, plus further master classes and seminars at the Exhibition for student and the public.
The venue itself was fantastic, a fabulous historical and newly restored building, that is a joy to see both inside and out.
Of the one hundred paintings, over fifty were major works, four feet x three feet or larger, all displayed in period Italian gold frames. There was also a further twenty medium sized oil paintings, as well as a selection of pastels and an example of portrait drawing.
The Exhibition was supported and sponsored by –
Presidenza del Consiglio, Provincia Di Pescara, Citt'a Di Pescara, Pescara Citt'a Vinina
CANTINA TOLLO
BLS- Gruppo Bancario
Athena Docet
YRC Logistics
Maimeri
Sigraf
Ian Potter
and the event organiser was –
Charles said, " I was so pleased by the support I received from my sponsors in making this possible. It was marvellous. Practically, I have never seen these paintings look so good. They appeared everything that I have worked so long to achieve in quite literally the best light and conditions. Happily, they also complimented the wonderful building and provided me with a bridge to the past that I have never seen before either."
Professor Brigida Di Leo kindly provided the review of the work of Charles Harris for the Television and Media alike and this appeared in the show catalogue.
She said, " Today, Scottish Art is vital as shown in the works presented at this Exhibition of artist Charles Harris.