CHARLES HARRIS INTERNATIONAL MASTERCLASSES
by Charles Harris MA BA
(For private confidentiality and data protection, certain information has been removed from these pages.)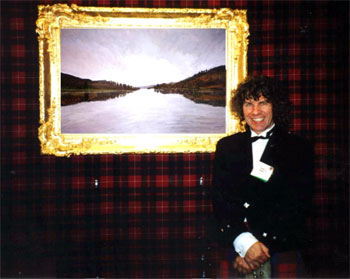 Charles Harris delivering a Masterclass Seminar.
At the beginning of his artistic career, Charles was encouraged to work as a teacher/lecturer for a chief educationalist in his area, reporting back on his findings.
At the time, Charles was appalled to discover in many places within Education – the methods of coloured sticky paper and the ideas of conceptual self-expression – rather than the necessity of teaching practical formal academic art training.
Charles said, "Sadly, in education, the curriculum for Art gradually changed.
Before the apparent introduction of a modern preference for writing about art in exams, especially modern art, the main necessity for art had been in the actual practice of painting and drawing." – extract from 'Trust Your Eye' by Charles Harris.
By contrast, Charles' approach in teaching, is practical, traditional, unconventional in the face of today's Modernism in Art, unique and totally effective at every level.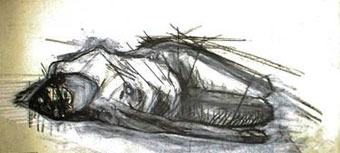 Traditional Figure Study by Charles Harris MA BA
Charles' clear views and strong straightforward practical ideas on design, perspective, form and space and the accepted values of tradition in Art influenced many people.
This occurred particularly following the influence of Peter Greenham OBE, Keeper of the Royal Academy, who insisted Charles should teach and encourage the passing on of basic traditional values in Art.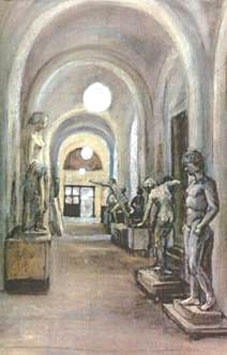 Perspective-Pastel Drawing from the Royal Academy Corridor
From early Surrey days with his friend 'Woody', a top BBC computer programmer who went on to work for NASA – to one of Charles' earliest students and life-long friend David Klein, a qualified engineer who later became a leading portrait sculptor and who was selected as a Victoria & Albert Museum Sculpture Finalist in 2006.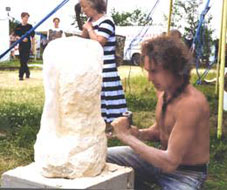 Portrait Sculptor David Klein at work carving stone
Many years ago Charles took the basic principles of his first three years of study at the Royal Academy and condensed them into a short series of overlapping classes.
Gradually through teaching practice, these ideas were refined into today's basic four-part Masterclass programme, which both provides and requires the best from students at all levels.
There follows various examples of classes Charles has held over a number of years, showing  detailed drawing, large perspective exercises, demonstrations and seminars.
Charles also did numerous demonstrations all over the world and often by special request, including for example, demonstrating at the Edinburgh Fringe Festival.
We have also included below one of Charles' Intermediate pupils who advanced to Masterclass level –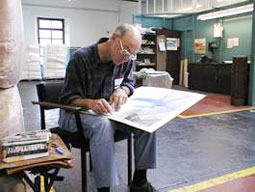 One of Charles' Advanced Masterclass pupils at work.
Happily, Charles' programme can be applied across the board, from the basic Beginner, to an Advanced practitioner. It requires both thought and practice, and has led to stunning results for all concerned over a number of years. In the mess that we see in today's Modern Art world, we can safely say that Charles employs no trendy art jargon, nor uses conceptual ideas to achieve practical results.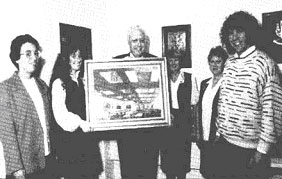 Susan Oxford and Charles Harris as Susan receives a Prize
The effectiveness of Charles' classes can easily be summed up in the words of his former student Susan Oxford, who said – "Charles' classes are always practical, messy, really exciting and always enlightening. Charles is an exceptionally talented artist, teacher and critic."
Dr. Richard Norris of Action International

Leading Business Coach, Dr. Richard Norris, of Action International, has regularly maintained, "Anybody employing Charles must see his services as the ultimate investment for the future." (also see Investment section).
Also, Mr Padraig Flynn, European Commissioner, said of Charles' paintings –
"Looking at this work, I have never learned so much about painting in such a short period of time."  (see also Quotes and Reviews section)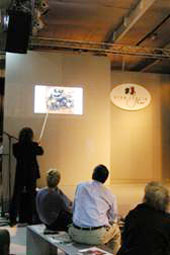 Charles delivering a Masterclass Seminar at Earls Court in London
Martin Herbert, who, with his wife, attended one of Charles' Masterclass Seminars on Italian Renaissance Painting at the 'Viva Italia' Exhibition held in Earls Court London, said – "We were impressed with the presentations held on the main stage, particularly Charles Harris – the art lecturer – who incorporated his passionate views into an extremely informative and entertaining lecture – we have never seen anything like it – more please!" (see Quotes and Reviews section).
From the outset, with the high standard of tuition encouraged, several of Charles' students were accepted for interviews at the Royal Academy in London.
Elsewhere his students have been accepted for colleges and universities throughout Britain and Overseas. His students have also won many prizes and awards.
In recent times, a fourteen-year-old student won the top Scottish Schools National Painting Prize competition.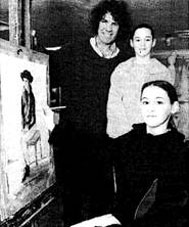 Charles pictured with his prize-winning student
For those of you considering Charles' current Masterclass programme, age and expertise or a lack of age and experience, or any other combination whatsoever, will prove no impediment with the tuition he presents.
Some notable examples of this occurred early on in his teaching career.
He successfully taught complex perspective drawing to both an eight-year-old girl and an eighty-three year-old man together, in one large advanced class.
While, another example was the first Artist in Residence scheme pioneered by Charles, at a Surrey school, which was featured on a BBC Television Six O'clock News programme.
As a part of this innovative project, Charles also held mixed evening classes that comprised pupils, teachers and parents alike from differing age groups, all at the same time.
This project also included a major group painting of schoolchildren, currently held by Surrey County Council.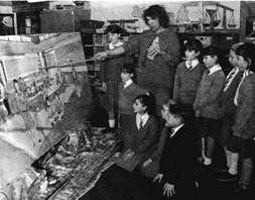 Artist in Residence Scheme featured on BBC Television
Practically, Charles' teaching methods, like his views on Modern Art, get to the heart of what Traditional Art and the 'Great Tradition in Art' previously represented.
His methods and views are therefore simple, direct and universally appealing.
For practical experience, before embarking on his recent programme of Masterclasses overseas, Charles celebrated his 500th private class in an eight year period.
Immediately upon leaving The Royal Academy, Charles was approached by a leading Education Officer in his area, who had numerous schools, several colleges and a university within his catchment area.
He asked Charles to teach and demonstrate. He also asked him to report back on the condition of Art Education within these establishments.
Eventually, Charles taught at every standard and level, from reception class, to sixth form in schools, plus talks and lectures at colleges and universities, usually between portrait commissions.
Thus began a long period of teaching and lecturing to the present day with Masterclasses and seminars overseas, an activity he started back at the beginning between those portrait commissions and other activities.
The highly successful Masterclass programme which Charles recently pioneered, first began in Italy, at the British Institute in Florence, and was then repeated in the USA, and then again in Scotland. When not wearing smart clothes, Charles was often asked if he would provide demonstrations and mini-classes at his overseas shows and exhibitions.
A recent example of his live demonstrations occurred at Earls Court London in 2006.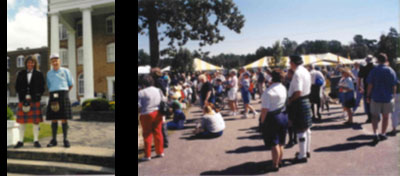 Charles at Red Springs South Carolina USA
Private tuition or individual Masterclasses can be arranged anywhere at any time.
In 2006 Charles received a special request to present classes as part of a cultural programme being staged at an exclusive private Villa in northern Italy.
For those of you interested in this new Italian adventure, please contact us as soon as possible, for places to Charles' courses tend to fill rapidly.
For the best in Traditional Art tuition – please contact us directly and we will be delighted to assist you with your enquiries.
---
Charles Harris International — Art Education Initiatives
Our plans are to continue to offer improved Art Education in the present and in the future. We plan to offer this both as Approved Academic Courses, or Vocational Courses. Accordingly we have created our own qualification to this end. We consider it to be the equivalent to an art degree and have valid reasons to make this claim. In general, we are seeking to continue to improve Art Education with better methods and understandings, achieving a new and sensible attitude in art education for all of society through the appreciation and teaching, with new classical drawing and painting skills, and appropriate understanding by the teaching of those lost skills, their importance, and lost social values. Practically this is achieved by encouraging a return to an appreciation of beauty, life, nature and human nature, as the primary subject matter for Art. This helps encourage a general public perception of improved education skills and better social values for the 21st.Century, deliberately seeking better standards in life, in the arts, in entertainment and human interaction, as they all interlinked. These ideas have grown over years of experience and began with the first Artist in Residence Scheme held in English Schools and have continued ever since, through 500 plus classes held at an art centre in Scone followed by masterclasses at exhibitions across the globe, and into art schools in Italy and public and state schools here in Scotland. Our students have come from all walks of life and we believe the skills learnt   are both transferable and life advantageously improving, through the use of the imagination and practical confidence gained.
We are therefore looking to meet Chief Educationalists and others with responsibility for Art Education for their society, through the appreciation and teaching of classical drawing and painting skills, instilling appropriate understanding, and encouraging a return to the appreciation of Beauty, Life, Nature and human Nature as a new suitable primary subject matter for Art today. These are transferable skills, and have provided numerous, otherwise unskilled people, or students without sufficient academic qualifications, a route into knowledge and career opportunities.
We offer the highest possible standard of Art Education, both practically and theoretically. Our principal, world-famous classical artist Charles Harris, has staged Exhibitions across the globe with accompanying masterclasses, live demonstrations, seminars and talks. Our emphasis on Education has been continuous. Charles founded a new movement in Fine Art and has staged masterclasses across the globe since his tenure as a prize-winning student at the Royal Academy in London. This has led to the creation of a new programme of art classes, with an art certificate considered to be the equivalent to a formal traditional art qualification, plus accompanying life skills. Charles Harris International have also completed the publication of an authoritative book on classical painting and we are currently engaged in producing a 'how to do it' instructional text book, and a further book questioning the validity of contemporary art.
Past clients have included schools, colleges and universities in England, Scotland, Italy, Hong Kong, USA, plus countless individual masterclasses, particularly for the underprivileged or socially disadvantaged, who may not otherwise have the opportunity, or equally for young adults returning to formal education.
Again, our plans therefore are to continue to offer improved alternatives for Art Education in the present and in the future.
At Charles Harris International we have a long record of delivering successful art classes in the last twenty years. Our principal Charles Harris began teaching private candidates at the behest of the Keeper of the Royal Academy, the late Peter Greenham OBE, who then telephoned Charles' students to enquire how they had got on.
We believe Art can offer people without developed writing skills an equal opportunity to explore themselves. The learning or improving of drawing skills will help students or interested people in general a chance to discover more about themselves and the world around them, and these skills will then automatically help them to extend themselves into other areas. This ability to raise the human spirit from the drudgery of everyday life through the pursuit of knowledge and excellence is an aim that Charles has always supported.
Charles trained at the Royal Academy of Arts in London from 1977-1983 under the tutelage of Peter Greenham OBE, when the RA was the last bastion for tradition in contemporary art. Both Peter and his best friend Prof. David Morris, who was a senior RA Art Historian at the time, encouraged him to remain a classical traditional painter and warned him in Peter's own words, 'Anyone wishing to pursue Traditional Art will find themselves swimming against a stream of unchecked modernism.'
At that time, in a highly competitive environment, he was awarded the Royal Academy Bronze medal for Drawing in 1978, the Silver Medal for Drawing in 1979, and the Freedom of the City of London, along with the Freedom of the Worshipful Guild of Painter-Stainers in 1980-81. In 1983 Charles was also elected to the Livery in the Guild of the Painter-Stainers, and, whilst still a student at the Royal Academy, Charles was also chosen by Britain's leading art critic Brian Sewell, as 'one of the six best painters for the future', and we believe he has lived up to that promise.
---
A New Future in Art Education Today.
For many students or pupils Art Education is a major challenge today. The likely uncluttered simple joy this subject previously offered has become a complex subject. Frequently called Art & Design, there now exist opportunities to study in a wide range of professional design disciplines, now called 'The Area of Applied Arts,' such as jewellery, ceramics, textiles, printmaking, graphics, illustration and computer aided design, including animation. Students are offered the opportunity to study in so many different subject disciples, for example, photography, but all incorrectly described as Fine Art. This situation probably arrived as a result of the poor influence of part-time modern artists all claiming to be dissolving the barriers between disciples and bringing these ideas into education. Practically this has been a disaster for genuine art, and has led to the lowering of standards in the actual practices of art, and the professional training required to pass on the necessary skills. In particular a major loss has been in the teaching of basic skills, always built upon the foundation of Drawing. Thus proper drawing skills and painting skills have almost disappeared, gone along with the idea of, 'Yes we must learn how to draw first, before we can develop and progress in other areas of modern art.' However in practice, people making these claims mostly could not draw in the first place. Whilst with the dictates of common sense, no practicing professional would make this claim. As you cannot progress away from drawing, you can only continue to improve in a long life time of study, or else abandon the discipline entirely. This was what usually happened, to be replaced with words. Shockingly, we then saw pages of words presented as art and a written 'Artist Statement' became a compulsory practice in today's apparently visual world of modern art. This was entirely opposite to the visual disciplines and alternative opportunities of self-exploration and discovery into the world of knowledge, for those unfortunates without sufficient formal academic opportunities, and also for those seeking to pursue different traditional practical skills and the pursuit of excellence within those proven past disciplines in a traditional conventional visual world of art.
Unfortunately the affects of that change towards writing and a new modern-obsessed conceptualism in Art stifled those opportunities, lowered skills and has lead to the modern art elitism we see today. Unfortunately, supporters of modern art, with its ideology of 'anything goes', refused to recognise the need for any standards. Yet the Great Tradition was based upon visual standards of achievement in painting, not modern taste, opinions, or trendy ideas. Consequently, now in the 21st century we are living in something of a new dark age in Art. And like the Romans who looked back at the Greeks, and the Italian Renaissance artists who looked back upon both, we are also obliged to look back into the past to recover knowledge and skills that have become lost. Also sadly, fifty years of modern art conditioning has lead many people to believe there is no alternative to shallow modern art, without any self-evident visual proven traditional standards, virtues, or values. For the sincere committed painter those were appalling times, but belief in the voice of reason, rather than following fashionable trends has returned. Happily, we may now all look forward to seeing a return to the best practice and values of traditional art in education. It will address some of the concerns of Business and the CBI, who were unhappy last year with new university students applying for work and not having the necessary art skills, for example: the need for qualified students to work on plans for the next generation of computers which do require advanced drawing skills. And fortunately there are other major benefits as well, into the actual practice of Fine Art, with the confidence of seeing new Great Art once again occurring in the present and for the future. – Charles Harris © September 2015
 "All of my life I have been involved with Classical Painting – which actually shows the visual Love, the understanding of Life, of Nature, and of Human Nature, that has become lost today. Last year I finished writing and published a book, you will find it in the libraries of the National Gallery in London, the Royal Academy, the Tate Gallery, and the Uffizi National Gallery in Florence, Italy. Now I want to do better, and enrich peoples' lives with improvements to Education. 
For seven hundred years, wonderful European paintings from the Great Tradition have helped in the development of mankind.
It led in the Renaissance.
It assisted in the Reformation.
It aided the Romantics.                                                                                                                                                                                                                                                                                               
And it ended with the Impressionists.
So it is my personal view that the greatest loss today for Art has been with the abandonment of those traditional ideals of beauty, life and nature, all portrayed with proven skills and standards, which those past paintings always achieved. Instead of modern mutterings about – "Oh my god, he's a modern artist and he's about to have an inner experience." I should like to hear and see once more those large ideas of beauty and life, all recorded properly and shown again, bringing fresh new hope and vitality to a stale contemporary art world. I believe we all need a new traditional step, leading the way once more for a better future in art and life.
'Great Art should educate, inform and dynamically reaffirm the experience of Life for us all.'        
As a long observation it is probably true as a practical self evident visual reality, that people, who cannot understand realism in Art, or refuse to acknowledge it, usually cannot do it and thus seek an easier path. So a problem for traditional art is that the public have been encouraged to see art as all the same. This is as a direct result of salespeople in the modern art world encouraging that idea, and was particularly attractive in education for example, so that most inadequacies of unskilled teachers and tutors in the actual practice of painting and drawing will be over-looked. It is therefore important to always explain that painting inside or outside from Life, is in no way the same as the activity of writing about, and the making of, conceptual modern art objects." – Charles Harris © September 2015
Examples of Charles' Educational initiatives:
Charles held masterclasses at the British Institute in Florence, Italy – organised by Christine Wilder.
He spent every lunch hour at the National Gallery in London whilst a student studying the world's best classical paintings.
Spent considerable time in Florence in research and preparation for his book 'Trust Your Eye: An Illustrated History of Painting', and also in Munich, plus the Metropolitan Museum of Art in New York, the Tretyakov State Museum in Moscow and the Hermitage in St. Petersburg.
Awarded Academic Cultural Exchange visit to Russia and gave Talk at the Repin Institute.
Held a correspondence course for an inmate at Wakefield Prison as part of his rehabilitation programme.
In 1990 Charles made and presented a video on 'Traditional Painting from the National Gallery' with Prof. David Morris, former Art Historian at the Royal Academy, to the BBC and Channel 4.
In 1995 Charles founded a new movement in Art called 'New Traditional Art™'.
Invited to form and lead the New Human Realists in 2014 – numerous academics from across the globe to encourage a return to traditional painting.
Charles formed the Traditional Art Association with Barry Scott in 2007 to encourage traditional drawing skills.
Former masterclass students still email photographs of their work for appraisal by Charles.
During the British Institute masterclasses in Italy, famous local private art school sent their top students to theses courses. Charles then extended this famous programme of masterclasses to ten for one complete term.
During the Pescara Exhibition in Italy, several Italian students completed an art history course, eg Dajana and Emanuella. Charles created a certificate and both students used this as a qualification to supplement their applications to Italian university – Dajana in art and Emmanuella in architecture.
Charles created a new Traditional Art Certificate for Scottish art student Lise who used this certificate along with a portfolio of her work to achieve promotion into the second year of a four year course at university in Scotland. Within two weeks her work was photographed by the university and held as the new standard at the university for entrants.
He also ran courses especially for A-level students returning to Education to secure an A-level in Art.
Charles also coached students at A-level English for the same purpose and encouraged creative writing for adults.
Numerous students over the years have entered schools or universities with the help of a portfolio produced by Charles.
He taught a juvenile youth with social difficulties, who was inspired through this experience, and who achieved the Art certificate course. He then joined the army, (the Black Watch regiment), and later won a medal.
Charles also taught an art student who used this course as an addition to assist her admission to the RAF.
A fourteen-year-old girl, a former student of Charles, won the top Scottish Schools Painting Prize.
In Hong Kong Charles was asked to give a lecture to ex-pat Brits on the subject of 'Traditional Art'.
In October 2001 Charles was requested to give an address at the Worshipful Company of Painter-Stainers in the City of London. The subject was 'The Necessity of Traditional Art'. Subsequently this speech was introduced into the curriculum of an American university by Prof. the Rev. Dr. Douglas Kelly.
Where this all began –
After the third year of his studies at the Royal Academy, Charles then condensed his first three years of study into six classes which he then reduced to five. These classes then became the base line in art education for all standards and all ages thereafter.
Whilst still a student at the Royal Academy Charles was headhunted by the former Chief Educationalist for Surrey Ian Smith to report on the standard of art education in schools in Surrey. This consisted of reporting on 90 schools, 3 colleges and a prominent university.
Artist in Residence Scheme featured on BBC Television
During this period Charles created the first 'Artist in Residence' scheme in British schools which was featured on the BBC 6 O'clock News television programme.  As a part of this innovative project, Charles also held mixed evening classes comprised of pupils, teachers and parents alike, from differing age groups, and all at the same time.
This project also included a major group painting of the schoolchildren, currently held in the collection of Surrey County Council.
Charles at Red Springs in S. Carolina and Grandfather Mountain N. Carolina USA
Thereafter Charles continued with his World Tour Exhibitions, including a charitable event in South Carolina with masterclasses, talks and a small exhibition in aid of a charitable Trust. The school was set up by U.S. Scottish ex-pats who funded this now exclusive school.
Dr. Richard Norris of Action International
Leading Business Coach, Dr. Richard Norris of Action International, has regularly maintained, "Anybody employing Charles must see his services as the ultimate investment for the future."
Elsewhere many of his students have been accepted for colleges and universities throughout Britain and Overseas. His students have also won many prizes and awards.
In recent times for example, a fourteen-year-old student won the top Scottish Schools Painting Prize.
Charles then moved to Scotland to care for his elderly parents who were located in Scone, Perthshire. He also ran a large Art Centre in Scotland between 1995 and 2003. According to the Centre Manager Stephen Bainbridge, "The Centre organised over 500 separate art classes during this period. These were always concerned with the Language of Painting and held in an orderly and concise manner irrespective of any other considerations." At the art centre in Scone, Charles and his team provided opportunities for young people who possessed talent and the desire to receive advanced art education. But because of circumstances or their family's situation they might not have sufficient academic qualifications, nor could they qualify for an education loan, grant or scholarship. Many had talent, passion and have subsequently succeeded in their desire to achieve a high level through their dedication and hard work.
Charles taught these young people who wished nothing other than to become artists, believing they should not be denied the opportunity because of their situation. Therefore without this access to proper art, and to levels of tuition those young students would otherwise not have been able to receive an opportunity to obtain a further education at a college or university, and to take this important route of self discovery and education.
Yet today the idea persists that fine art is no longer 'Art' and the cult of 'anything goes modernism' believes it can exist without proper Drawing. It also encourages art students to conceptualise and academically study philosophy, which automatically discourages and restricts access to a subject that should educationally be generally available to all.
These ideas were always growing from those early Surrey days with his old friend 'Woody', a top BBC computer programmer who went on to work for NASA, to one of Charles' earliest students and life-long friend David Klein, a qualified engineer who later became a leading Portrait Sculptor, and who was selected as a Victoria & Albert Museum Sculpture Finalist in 2006. David wrote the following:
"I first received tutorship from Charles in the craft of Fine Art whilst at college studying engineering. I found his lessons in both style and content inspiring. His consistent and practical
approach when applied to the basics of painting instilled a core understanding of perspective, tone and temperature values which represent ʻthe beating heart of painting',whilst engendering passion for the deeper purpose of art in the world today. His obvious personal commitment to these values is undeniable, and in leading by example he inspired respect. After spending ten years in business I decided to change direction and to study Sculpture full-time and have been working and making a living from my art for the last ten years. I believe that in no small part this decision and
subsequent rich and fulfilling life was rooted in Charles' early and profoundly effecting tutorship."
-David Klein – sculptor
In 2007-8 Charles staged masterclasses in six Art Schools in Abruzzo, a central region of Italy, prior to staging his largest-ever exhibition of 100 paintings, over 40 of which were 4ft x3ft or 6ft x 4ft. This major cultural Event lasted for an entire summer and opened a new art centre in Pescara.
Charles also staged daily live demonstrations and gave evening talks in the centre's lecture hall.
He also held lectures at a number of locations afterwards, including a talk at the University of Pescara. This followed an invitation from Prof. Brigida di Leo, Head of Pescara University who kindly wrote the Introduction review of Charles book 'Trust Your Eye,' and translated this review in Italian. The book was written as a result of years of requests from people asking, "Where can we read what you have been saying?" And Charles was obliged to reply, "I am sorry you cannot."
Charles entertains huge crowds with his popular talks at Earls Court and Olympia in London
For three consecutive years, Charles was invited to give talks at the Italian Shows at Earls Court and Olympia in London on Italian classical painting, upon which he is now considered an authority. These events had thousands of people through the doors and the talks Charles offered were greatly received.
This three year period was then followed by the Abruzzo Master Class Programme and culminating in the major event of the huge Summer long Exhibition Event in Pescara.
Charles also worked on a charity project in Italy and then staged masterclasses in three schools in Perthshire in Scotland. (Two of these schools were private and one a local state school.) And Kilgraston School for Girls in the Bridge of Earn, retained photographs of these classes on its website for a long time afterwards.
Charles leading a masterclass at a private school in Perthshire Scotland
'Trust Your Eye: An Illustrated History of Painting'
Following those repeated requests throughout his entire career, Charles finally completed his book on classical traditional painting, entitled 'Trust Your Eye: An illustrated History of Painting', which was completed in December 2013 and published in January 2014. Work had begun on this project in 2004 and took ten years to complete as Charles was occupied with many other aspects of his work, particularly his masterclasses and exhibitions. The book has been extremely well received by academics, art critics and art enthusiasts alike around the world. There follows a selection of reviews it has received below:
Academic reviews for Trust Your Eye: An Illustrated History of Painting'
'Prof. Antonio Natali Direttore of the Uffizi Gallery in Florence has given his name to the copy of  'Trust Your Eye an Illustrated History of Painting' and entered it to the Library of the Uffizi Gallery where it will be made available to the many students attending each day. Prof. Natali also took note with interest the initiatives you have undertaken for Santo Stefano and sends the warmest wishes for your success.'
– Barbara Vaggelli, Segreteria Direzione Galleria degli Uffizi
'Also included in the Libraries of the National Gallery, Tate Britain and the Royal Academy of Arts, London.'
'Lurking within this book is a poetic insight, a collection of personal responses, both as a painter and as a man of profound Christian faith. A work of hard-felt literature, which I feel lies at its core. This book is more than just a book on Art History and therefore should have a much longer shelf-life, as it contains deep insights, both spiritually and intellectually.'
-Brian Sewell, Britain's Leading Art Critic
'What a beautiful production. Charles always had the knowledge, the style and most of all the passion. Now the results are there for all to see.'
-Father Jim McManus, Twice Leader of the Roman Catholic Church in Scotland.
'I was delighted to get your book yesterday. I think so highly of it, that I wish to add two or three quotations from it into the volume of my own work 'The Beauty of Christ.'  It was providential that I got your 'Trust Your Eye' in time, for your research and craft will add/ /something valuable to it.'
– Prof. the Rev. Dr. Douglas Kelly, Head & Dean of Studies, the University of Carolina, Chapel Hill, USA
'Reading it you feel you are walking through centuries, catching the main art concepts and admiring masterpieces, all in a few minutes.'
– Paolo D'Alleva, Major Italian Exhibition Co-ordinator.
'Your beautiful book arrived as I was walking out the door to go to the airport on Tuesday.  I took it with me and had the opportunity to show it to friends over dinner. I must say that the book made a big and positive impression.'
-Lynne Bulger, 'Director of Medical Affairs', GSK Pharmaceuticals, Ontario, Canada.
'I love your painting; I can see all the layers of time that you deposited on it. The result of your painting is always something that transcends the contingency of time, in a way it is time condensed on a surface, but at the same is beyond the idea of time… like many seasons could live in the same painting, at least this is my very personal feeling about it. More than that, I like to hear (or to read) about the struggle you have to achieve each work of yours. It really becomes a personal epic journey. I wonder how could you sell and separate yourself from a work that represents months of your life.'
– Alessandro Avataneo, Italian Film Director, Producer and Art Critic.
'This is a beautiful book Charles. It's a tremendous work of art to have produced and the reproductions themselves are magnificently done as well.'
-Olwen Morris, Royal Academy of Music, World famous Solo Concert Pianist and Chamber Music Composer.
'Charles, I couldn't believe my eyes! It is a beautiful work.'
-Jorych Marsili, Artistic Director of Toni & Guy, International & UK Leader in Hairdressing and past Hairdresser of the Year UK.
'The new classical art by Charles Harris quite literally represents an historic second revival
of learning in Fine Art.' – Luciano D'Alfonso, Former Mayor of the City of Pescara, Italy.
'With this book you show a down to earth intelligence, in touch with reality, that people don't imitate, but wish they could.' – Jill Davies, Dance Coach, Principal Ballet Dancer and retired Senior Civil Servant.
'Everybody should buy this book!'
– Mike Ash, Chairman of Grange Books, London.
For further information on the work of Charles Harris please visit:
website –  www.charlesharrisinternational.com
email Charles at –    [email protected]