[Not a valid template]
Charles has also been internationally involved in Sailing. He was invited to join the Scottish 470 Sailing Squad and trained at the Scottish National Sailing Centre at Largs. He was also invited to compete in the British Olympic Trials in 1995.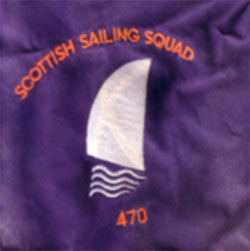 Charles represented Great Britain on a number of occasions in both the World and European Championships in England, France, Holland and Australia. Charles is also Commodore of a Sailing Club.
Charles continues to compete in Sailing and this has not just been in dinghies.
He was commissioned to skipper a Swan in a season of cross-Channel R.O.R.C. competitions, (see winning photo of Charles above), and he has had a long and varied history in sailing/racing that has led to him winning many trophies throughout a number of years. In the past, he has qualified as a RYA Senior Instructor, a Racing Instructor, a British Sports Coach and he also holds a Yacht masters Certificate.
In Scotland Charles has also raced Tasars, RS400s and more recently the RS800s. Charles has also held a strong interest in coaching since his early days with Andy Gray, coaching the English squad at Queen Mary. His former Fireball crew David Alford was a former squad sailor and an Enterprise champion.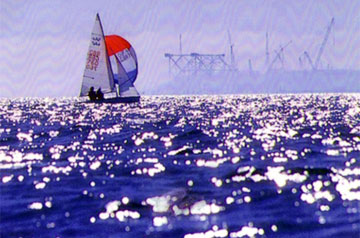 Charles has other interests in Sport as well. He is also a keen Marathon runner and a passionate Fly-Fisherman. Although a full-time artist, he still remains a dedicated sportsman who runs five miles a day and trains in the gym three nights a week.
From the beginning of his Art career he lectured a great deal as well as taught in schools. Additional subjects he was often asked to teach besides Art were English and Sport. He coached both a successful boys Soccer team and a successful girls Netball team.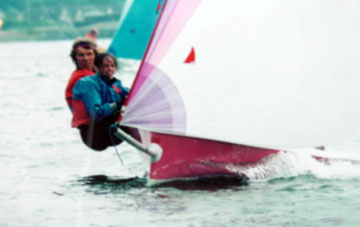 He played Rugby at school and later became a regular and avid follower of NFL American Football, especially during his trips to the USA.
In summary we can therefore comprehensively state his practical understanding of Sport is therefore extensive. Charles said, "As a passionate sportsman myself I do have a sound working knowledge of the pressures surrounding Sport and the commitment required to achieve any success".
As an artist, Charles has long held a desire to combine the high standards of Traditional Art in the heroic classical Greek and later Italian styles, with the necessity of high standards in physical activity for excellence in Sport.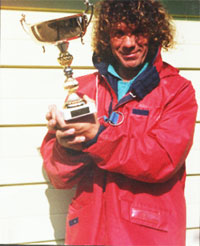 Unfortunately one hundred years of Modern Art has not tended to be representational, and therefore most examples of Art and Sport have tended to be amateur or only semi-professional. It has also tended to make cynics of the Media with regards to the value of Art, but this is a reality that Charles, with his fine knowledge of both Art and Sport plans to change.
We would therefore welcome any enquiries with regards to Art and Sport which you, the reader, may have in this respect.
Developing these ideas still further, Charles extended his interest for Scottish Rugby and thus began painting a programme of Art in combination with Scottish Rugby at Murrayfield in Edinburgh.